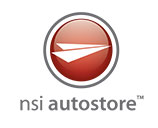 AutoStore™ is a server-based application which orchestrates the capture and secure delivery of paper and electronic documents into business applications. It is well suited for organizations of any size who want to eliminate error prone manual document handling, increase communication and collaboration and use speed as a competitive advantage.

AutoStore captures the image or document at the MFP, converts it into the desired format and sends it as a fax or email message, stores it to a local desktop or network location, or sends it to line of business or back-end content management applications. At the front panel, all the user needs to do is log in and press a button. That's it.

Benefits AutoStore provides unrivaled reliability, business continuity, scalability, and ease-of-use for IT staff and desktop users.

Improves Communication and Collaboration In today's competitive global marketplace, business survival depends upon the effort, commitment and drive of the entire organization. Fueled by every employee, the organization must encourage communication, collaboration and a constant flow of information to truly realize its full potential.

Here's the good news. With AutoStore, business leaders can now open the lines of communication and collaboration, break down internal silos and easily join paper and electronic business activities into uniform document workflow processes.
Easily turns paper into actionable digital information.
Removes delays in the management and execution of your critical business processes.
Captures paper and electronic documents from any source.
Utilizes data managed by another department for data input and validation during distributed capture.
Enables an organization to work more quickly and efficiently.
Operational Efficiency and Standardization The best way to increase productivity is by leveraging existing capital investments to improve the impact of work activity and to prevent wasted energy and expense caused by inflexible systems. AutoStore enables people to better leverage the technology they use every day, provides effective solutions to drive innovation through internal and external document processes and increases efficiency and productivity in business processes (invoices, accounts payable, accounts receivable, etc.).
Ensures document workflows are centrally controlled.
Saves money in the areas of warehousing, records keeping and courier expenditure.
Eliminates "lost document" costs (i.e., time it takes to recreate a document that has been misplaced or destroyed).
Empowers Real Time Business In today's economy, companies must change the way they conduct business—or competitors who innovate their operations will run circles around them. Time-based competition can and must be mastered by organizations who want to win in the decade ahead. Using up-to-date information, getting rid of delays, and using speed for competitive advantage is what AutoStore is all about.
Automates the paper and electronic document driven activities of a company.
Radically reduces the cost of business interactions and information lag time.
Provides self-service that delights, while cutting costs.
Securely disperses information easily, effectively and with minimal operational overhead.
Provides customizable one-touch buttons on the MFP's front panel to automate the distribution of documents.
More-efficiently utilizes plant and equipment.
Secure Document Creation and Delivery While scan to email, scan to fax, and scan to desktop have become everyday ad-hoc scanning procedures, security at the point of capture is a potential vulnerability. As a consequence, it is now more important than ever for organizations to prevent the loss or leak of sensitive data. Whether protecting sensitive information or sharing secure information between personnel, AutoStore delivers a unified solution to measurably reduce risk, and demonstrate compliance while protecting customers, brand and intellectual property. By selectively implementing the security features you need, AutoStore easily configures for easy walk up access, while also adhering to the security and transparency requirements of your work environment.
Allows for enhanced information security and risk mitigation.
Reduces exposure by integrating into extisting IT security infrastructure.
Protects privacy by ensuring personally indentificable or secure information never leaves an organization's firewall.
Prevents data leaks by enabling encryption and PDF password protection at the point of capture.
Complements existing data loss prevention (DLP) software investments.
FEATURES/CAPABILITIES

Capture Paper and Electronic Documents from Any Source Join paper and electronic business activities into a uniform process. AutoStore captures documents from devices and digital copiers, and also content from emails and fax, network folders, FTP sites, Microsoft Office applications, PC desktop, web client, XML data stream and other sources.

One Touch Multi Route Route your documents simultaneously to multiple people or to multiple back end systems with just a push of a button. Create specialized scanning workflows, associated with customizable one-touch buttons on the MFP's front panel to automate the distribution of invoices, purchase orders, bills and other time critical documents that streamline internal communication and reduce the risk of manual errors and expensive rework processing.

Document Image Processing Clean images are essential to any document imaging workflow. AutoStore advanced document image processing functions are a powerful collection of functions that can rid scanned documents of artifacts and imperfections such as hole punches, skewed angles, borders, dust speckles and more.

PDF & PDF/A Support Scan your documents to text searchable PDF or PDF/A documents enabling you to easily and accurately search for information in PDF documents.

Send to Email Send scanned documents directly to an email address with one press of a button. Select the correct workflow, fill in the needed details and AutoStore will scan the document, convert it to your format of choice (i.e., text searchable PDF file) and attach it to an email. Send it to yourself or to multiple people. After sending the document, a copy of the email can be stored in the sent items list of your mailbox.

Authentication AutoStore supports password or smartcard based authentication using existing network security infrastructure (Common Access Cards, Windows, Active Directory, Novell DNS). While device-based authentication requires extensive point-to-point management from IT, server-based authentication can be managed centrally, allowing clustering, failover and other system redundancy techniques.

Personalized Scan Menus Once the user is authenticated, personalized scan menus appear which are specific to an individual or department. The MFP front panel UI can be enhanced using custom icons and names to accurately represent the workflow action on screen.

Front Panel Browse-to-Scan Browse to scan at the front panel of your multifunction to any accessible windows file structure or Microsoft SharePoint document library. Once destination is set your documents can be converted to the electronic file format of your choice. AutoStore™ will as well dynamically create a logical filename, face up document indexing properties and automatically create (sub) folders.

Bi-directional Database Lookups Easily search and retrieve database information for display on the MFD panel. With the Database Lookup capability, the value entered in one index field triggers a database search to fill the other fields automatically, accelerating the indexing task while delivering greater accuracy.

MRC PDF Compression Attack file bloat at the core by automatically creating highly compressed PDF files up to 10 times their original size; reducing storage needs and minimizing impact on slower mail servers and choked bandwidth.

32+ Free Back-end Connections AutoStore uses back end connectors to connect seamlessly with popular enterprise software applications to become an enterprise content management tool that delivers results. Our connectors are free and directly supported and maintained by NSi.

Route to SharePoint Scan directly into the correct Document Library within Microsoft SharePoint. Within the Document Library, subfolders can be created based on meta data to ensure proper filing of your document. In addition, you can use meta data to populate the filename and file properties of the document. Your document can be stored as a searchable PDF, allowing you to retrieve your document using a simple search within SharePoint.

Integrated LDAP Connector At the front panel of the multifunction device, you can simply browse through your company's contact list to find and select the contact you wish to email. Just select and confirm to securely scan to one or multiple people. Perform an address search in the domain and have AutoStore return a list of email addresses to accurately touch and select.

1D/2D Barcode Recognition AutoStore can route and index documents based on information in a bar code printed on a document or separate documents based on detection of a barcode. Automating routine, error-prone tasks such as naming, batching, splitting, filing, and indexing scanned documents based on 1D/2D barcodes contained in the documents.

Capture from Any Email Account Capture email and other documents as soon as they enter the organization; turn them into actionable digital information, (including header, body text and all attachments) and deliver the information into business applications for immediate, appropriate processing or archive them for corporate compliance purposes.

Open XML Document Support Now you can easily scan hardcopy originals to the latest Word (*.docx), Excel (*.xlsx) or PowerPoint (*.pptx) and store them as accurate, properly formatted and editable Office documents.