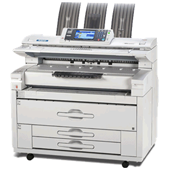 Product Overview
The Savin en7140WD is designed for fast output as you capture, share and save all of your customer's documents. This unit is perfect for converting hard copy documents into an electronic workflow with the built-in color scanner and a host of Scan-to functionality. The Savin en7140WD Wide Format Digital Imaging System is truly a high productivity tool that can help you work smarter, collaborate easier and share faster within your fast-paced production environment.
GENERAL FEATURES
Output speeds up to 14 documents per minute.
Redesigned, super-wide color LCD operation panel.
Reduce paper and toner usage by previewing document thumbnails before printing or scanning.
Eliminate tedious document updating by capturing as-builts, handwritten, on-site changes and color markups, and then integrating them with satellite imagery, photographs and maps to create complete bid sets.
Create and distribute documents with a comprehensive selection of Scan-to options including Scan-to USB/SC Card.
Simplify document access by temporarily storing documents on the 320 GB (160 x 2) "Document Server" and view them on the control panel or your PC for reprinting, as needed.
COPIER FEATURES
2 Drawer Cut Sheet Paper Tray (option)

Auto Paper Selection (APS)
Auto Reduce/Enlargement, User Auto Reduce/Enlargement, Preset Reduce/Enlargement, Zoom, Size Magnification, Directional Magnification
Directional Size Magnification (percentage and mm/inch), Fine Magnification
Electronic Sort
Image Overlay, Format Overlay, Negative/Positive, Mirroring, Double Copy, Repeat Copy, Combine Images
Job Interrupt
Job Program (up to 10 jobs)
Manage System and Security Settings, Document Server, Printer and Scanner Features
Margin Adjustment
Preset Stamps, User Preset Stamps, Date Stamp, Page Stamp
Standard 320 GB Hard Disk Drive: Store Up to 3,000 Documents
User Tools, Manage System and Security Settings, Document Server, Printer and Scanner Features
PRINTER FEATURES
Driver support for Windows—PostScript, HDI and a Web Print Tool to build job sets from HP-GL, TIFF, PDFs and CALS file formats.
Minimize the learning curve with drivers similar to standard print drivers.
PRINT CONTROLLER FEATURES
Auto Paper Select

Collate
Color Editing Tools
Combine Images
Cut Mode
Distributive Printing
Limitless Paper Feed
Locked Print
Output Tray Selection
Output to One Inkjet
Paper Remaining Level
Pen Settings Preview Print
Print Queue Management
Reduce/Enlarge
Sample Print Setting – Build Job Sets from Multiple File Formats
Simultaneous Printing and Scanning
Stamping
Title Block Setting
SCANNER FEATURES
Embedded Color Scanning
Minimize system footprint with the embedded color scanner.
Scan documents of extensive sizes and types, including architectural drawings, sepias, blueprints, detailed maps, folded or wrinkled documents, oversized drawings, photos or posters with unrivaled speed and image quality.
Scan your documents, either as multi-page Tiffs & PDFs, or single page PDFs, Tiffs, or Jpegs directly to e-mail, SMB, Folder, FTP, URL, NCP, USB/SD Card (option) and Document Server.
Capture crystal clear B&W 600 DPI scans or enhance scanning and printing workflow.
Speed up the capture of changes and additions by scanning your marked-up drawings in color.
Ensure easy retrieval of stored documents by scanning documents directly to file.
Authentication Modes

Continuous Input
Invert
Mirror/Positive/Negative
Multiple Scan Settings
RGB (24 bit), Grey, B&W
Rotation
Scan Modes
Scan-to-Archive
Scan-to-Email
Scan-to-Folder
Scan-to-FTP
Scan-to-NCP
Scan-to-SMB
SPECIFICATIONS
Configuration
- Console
Copying/Printing Process
- Electro-photographic printing
Paper Source
- 2 roll paper feeder (standard) 2 roll paper feeder (optional)* 2 drawer paper cassette trays (optional)*
Warm-Up Time
- Less than 120 Seconds
First Copy
- 10 seconds (D-size)
Copy Speed
- 14 ppm (D-size)
Resolution
- 600 dpi x 600 dpi
Grayscale Scanning
- 256 levels
Grayscale Printing
- 2 levels
Reduction/Enlargement
- 18 presets; 25% to 400% by 0.1% increments
Multiple Copies
- 1 to 99 (ten key input)
Cutting Method
- Synchronized, preset cut, variable cut
Memory Capacity
- 1,024 MB (Copy/Printer);
2,048 MB (required with scanner option), included with Scan Option.
Standard Hard Drive
- 320 GB (160 x 2)
Original/Copy Size
- 36" x 1180"
Original Exits
- Rear (upper), Original rear exit (straight through), Original upper exit
Copy Exits
- Front: 99 Sheets (Plain Paper D-size LEF)
Back:10 Sheets (Plain Paper D-size LEF)
Power Source
- 208 – 240V 15A 60Hz (NEMA 6 – 20R)
Max Power Consumption
- 3kW per hour
Dimensions (W x D x H)
- 49.2" x 29.7" x 47.2"
Weight
- 507 lbs.