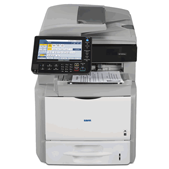 Product Overview
Value and productivity that deliver
Prints up to 52 ppm, copy, scan, fax
1200x600 dpi max print resolution
Paper capacity up to 2,300 pages
Support for paper sizes up to 8.5" x 14"
GENERAL FEATURES
Get a powerful solution for mid-sized workgroups
Turn mid-size workgroup demands into cost-saving opportunities with the Savin 5210SR Black and White Laser Multifunction Printer (MFP). Streamline tasks with 52-page-per minute (ppm) monochrome printing, plus multifunction capabilities to scan, copy and (optional) fax. Take control of daily tasks with a standard 1GB RAM and a 128 GB HDD, plus a maximum monthly print volume up to 15,000 pages for a lower cost per page — all from a single compact solution.
Simplify and streamline
Speed through tasks with robust document-handling capabilities. Produce crisp black-and-white documents at up 1200 x 600 dpi. Quickly scan images with a 50-sheet Automatic Reversing Document Feeder (ARDF), and store files on the standard 128GB hard drive. Plus, enjoy support for envelopes, paper sizes up to 8.5" x 14", and stock weights up to 59 lb. Bond/120 lb. Index.
Connect with wired and wireless functionality
Share your information with ease. Distribute scanned documents to hundreds of recipients with Scan-to-email/folder/URL with LDAP support. Not on a network? Use Ricoh HotSpot Printing features to send documents directly to the printer using your smartphone — without adding print drivers. Or, easily transfer documents to portable USB sticks or SD cards and take them with you.
Excel with quick and custom finishing
Finish jobs more efficiently. Staple up to 50 pages and stack up to 250 sheets with the standard space-saving internal finisher. Expedite envelope output with universal feeding, and use paper sizes up to 35" long to accommodate banner printing. Plus, easily increase paper supply — but not your device footprint — to a maximum capacity of up to 2,300 sheets.
Multitask the eco-friendly way
Responsibly accomplish your document-related tasks. The ENERGY STAR® certified MP 5210SR is packed with features like automatic duplex printing that allow you to save paper, and Energy Saver and sleep modes to cut operating costs — all while maintaining optimal productivity. In addition, our consumable and product recycling programs make it easy to recycle.
Assume control
Take advantage of user-friendly commands for convenient, intuitive operation. The SP 5210SR features clear access to features and critical device information via a standard, adjustable 8.5" full-color LCD panel. With the touch of a button, you can customize features to suit individuals and workgroups, create shortcuts, limit document access and more.
Better protect data with security enhancements
Operate more confidentially using the enhanced security capabilities of the DataOverwriteSecurity System (DOSS), which overwrites any latent data left on the hard drive. In addition, help stop unwanted document access with user authentication features, and add watermarks to help prevent the unwanted duplication of important documents.
Enjoy remote, versatile management
See more using the Web Image Monitor function. This simple-to-use interface makes it easy to configure, organize, diagnose and update your networked MFP — all from a standard web browser. Use our optional @Remote internet-based tool to manage your MFP. With it, check on device usage, automate meter reads, receive toner alerts, and even handle service needs to reduce downtime.
MAIN UNIT
Configuration
- Desktop
Print Speed (Letter)
- 52-ppm
First Print Speed
- 7.5 seconds or less
20 seconds or less
Grayscale
- 256 levels
Copy Resolution
- 600 x 600 dpi via Platen Glass, 600 x 300 dpi via ARDF
Print Resolution
- 1200 x 600 dpi, 600 x 600 dpi, 300 x 300 dpi
Document Feeder
- Automatic Reversing Document Feeder (Standard); Original Capacity: 50 sheets Original Size: 5.5" x 8.5" – 8.5" x 14" (128 mm x 139.7 mm – 216 mm x 355.6 mm); Custom: Up to 49.6" (1260 mm) (Simplex only)
Multiple Copies
- Up to 999
Zoom
- Platen: 25% – 400% in 1% increments
ARDF: 25% – 200% in 1% increments 93%, 78%, 65%
Standard Paper Supply
- 550-sheet Tray + 100-sheet Bypass = 650 sheets
Optional Paper Supply
- 550-sheet Paper Feed Unit (Up to 3 may be installed)
Max. Paper Capacity
- 2,300 sheets
Automatic Duplexing
- Standard, up to 8.5" x 14" (Approx. 90% productivity)
Output Capacity
- 250 sheets face down (w/Finisher)
Paper Sizes
- Standard Tray, Standard Sizes: Letter, Legal, Executive, Half Letter, A4, A5, A6, B5, B6, F/GL, Foolscap, Folio; Envelopes: Com10, Monarch, C6, C5, DL. Custom Sizes: Width: 3.86" – 8.5" (98 mm – 216 mm), Length: 5.52" – 14.01" (140 mm – 356 mm).
Bypass Tray, Standard Sizes: Letter, Legal, Executive, Half Letter, A4, A5, A6, B5, B6, F/GL, Foolscap, Folio; Envelopes: Com10, Monarch, C6, C5, DL. Custom Sizes: Width: 2.52" – 8.5" (64 mm – 216 mm), Length: 5.52" – 35.43" (140 mm – 900 mm). Optional PFU(s), Standard Sizes: Letter, Legal, Executive, Half Letter, A4, A5, B5, B6, F/GL, Foolscap, Folio; Envelopes: Com10, Monarch, C6, C5, DL. Custom Sizes: Width: 3.86" – 8.5" (98 mm – 216 mm), Length: 6.3" – 14.01" (160 mm – 356 mm)
Paper Weights
- Standard & Optional Tray(s): 14 – 59 lb.
Bond/120 lb. Index (52 – 220 g/m²)
Bypass Tray: 14 – 59 lb. Bond/120 lb. Index
(52 – 220 g/m²). When Duplexing: 16 – 44 lb.
Bond/90 lb. Index (60 – 163 g/m²)
Paper Types
- Plain Paper, Recycled Paper, Middle Thick Paper, Thick Paper, Thick Paper, Thin Paper, Transparency, Letterhead, Label, Color, Preprinted, Envelopes
Dimensions (W x D x H)
- 18.1" x 24.2" x 27" (460 mm x 615 mm x 686 mm)
Weight
- 116.8 lb. (53 kg)
Power Requirements
- 120 – 127V, 60Hz
Power Consumption
- Operating: 858 W or less
Energy Saver: 8 W or less
EMI
- FCC Part15 Subpart B, IC ES-003
Environmental Standard
- ENERGY STAR 2.0 compliant, ECP
Average Monthly Volume
- 5,500 – 15,000 total impressions/month
Maximum Duty Cycle
- Up to 200,000 total impressions/month
PRINT CONTROLLER
CPU
- 533 MHz
Memory
- 1 GB RAM standard/maximum
Hard Disk Drive
- 128 GB (standard)
Interfaces
- Standard: 10/100Base-TX Ethernet, USB 2.0 Hi Speed Type B (for direct computer connection), Dual USB 2.0 Host Interfaces Type A (for external device connection), Front USB 2.0/SD Card Slot Interface (for Scan To/Print From portable media). Optional: Gigabit Ethernet (1000Base-T), IEEE 802.11a/g Wireless, Bluetooth
Printer Languages/Drivers
- PCL 5e, PCL 6, XPS, Adobe PostScript 3, PDF Direct Print, Genuine IPDS (optional)
Fonts
- PCL: 45 fonts + 13 International fonts; Post- Script 3: 136 fonts; IPDS: 108 fonts (optional)
Supported Environments
- Windows XP, Vista, 7, Server 2003/2003R2, Server 2008/2008R2, Mac OS X v.10.2+, Novell NetWare v 6.5+, IBM AIX, SAP R/3, Citrix Presentation Server, UNIX/Linu
Network Protocols
- TCP/IP (IPv4, IPv6), IPX/SPX, Bonjour
Software Utilities
- Bundled Utilities: Web Image Monitor, Font Manager 2000. Optional Utilities: SmartDeviceMonitor for Admin Accounting Package, Web SmartDeviceMonitor for Client DeskTopBinder Lite, @Remote Communication Gate S Pro
Standard Security Features
- Administrator Authentication (5 levels), User Authentication (5 types), HDD Overwrite (DOSS) & Data Encryption, Secure Print, Encrypted Secure Print, Encrypted PDF Mode, Scan-to-Web Mail (SMTP over SSL), IP Address Filtering, Transport Layer Security (TLS), SSL Communication, IPv6, IP Sec, SNMPv3, Quota Setting
*Includes HDD Encryption Unit and Overwrite (DOSS)
SCANNER SPECIFICATIONS
Scanner Type
- Full Color CCD
Scanning Resolutions
- Scan-to Modes: 100/200/300/400/600 dpi (Black & White, ARDF & Platen); 100/200/300 dpi (Full Color, ARDF); 100/200/300/400/600 dpi (Full Color, Platen). TWAIN/WSD/WIA: 100 – 600 dpi in 1% increments (Black & White, ARDF); 100 – 1200 dpi in 1% increments (Black & White, Platen); 100 – 600 dpi in 1% increments (Full Color, ARDF & Platen)
Scanning Speed
- Over 30-ipm (B&W/FC, LTR @ 200 dpi)
Original Sizes (Max)
- Platen: Up to 8.5" x 11.7" (216 mm x 297 mm);
ARDF: Up to 8.5" x 49.6" (216mm x 1260 mm)
Protocols
- Network: TCP/IP; Scan-to-Email: POP, SMTP;
Scan-to-Folder: SMB, FTP, NCP
Scan Modes
- B&W Text, B&W Text/Line Art, B&W Text/Photo, B&W Photo, B&W Grayscale, Full-Color Text/ Photo, Full-Color Glossy Photo, Auto Color Select (ACS)
Supported File Formats
- Single/Multi Page TIFF, Single Page JPEG, Single/ Multi Page PDF, High Compression PDF
Scan-to modes
- Scan-to-Email, Scan-to-Folder (SMB/FTP/NCP); Scan-to-URL, Scan-to-Media (USB/SD Card)
INTERNAL FINISHER
Tray Capacity
- 250 sheets
Modes
- Shift Sort, Stack, Staple
Paper Size
- 5.83" x 5.52" – 8.5" x 14" (148 mm x 140 mm – 216 mm x 356 mm)
Paper Weight
- 14 – 59 lb. Bond/120 lb. Index (52 – 220 g/m²)
Stapling
- 1 position; Top parallel
Staple Sheet Sizes
- Letter, Legal, Executive, A4, B5, Foolscap, Folio, F
Staple Capacity
- 50 sheets/set (Letter)
30 sheets/set (Legal)
Stack Capacity after Stapling
- 2 sheets: 33 sets; 30 sheets: 7 sets; 50 sheets: 4 sets
Staple Paper Weight
- 14 – 24 lb. Bond (52 – 90 g/m²) 5,000 staples
Staple Cartridge Capacity
- 5,000 staples
(21 lb. Bond, 80g/m²)