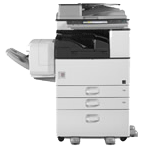 Expectations are high. You're facing more tasks, more challenges—and less time. So why not demand more from your multifunction system? The Savin MP 3352SP offers unmatched versatility and innovative security for superior productivity and efficiency. It provides copy, print, scan and fax capabilities in a compact design so you can produce a wide range of jobs with exceptional quality. Plus, it incorporates a host of sustainable, eco-friendly features that can enable fast-paced offices to save money while conserving energy. Use it as your workhorse device to streamline workflow from creation to finishing, or integrate it into a comprehensive Managed Document Services (MDS) strategy and improve productivity while reducing total cost of ownership.
GENERAL FEATURES
Deliver exceptional multifunction performance with standard printing, scanning and optional faxing.
Generate up to 33 black-and-white pages-per-minute and proceed to the next job quickly.
Execute workflows seamlessly with a wide range of document distribution tools that can be tailored for your office for maximum convenience.
Reprint, refax or scan instantly with the Document Server. It stores up to 3,000 frequently-used documents to expedite workflow.
Access a wide range of system settings including supply levels and job details, assign e-mail notification to key team members, cancel jobs and reboot the system remotely with Web Image Monitor.
Use Web SmartDeviceMonitor to configure, monitor and manage your entire fleet of connected Ricoh devices—right from your desktop.
Promote proactive maintenance with automated alerts for low supplies and errors with Auto-Email Notification.
Automate meter submissions, critical event notifications and remote firmware updates with @Remote.
SCANNER FEATURES (STANDARD)
Capture documents in monochrome or in vibrant color and reduce file sizes with high-compression PDF for faster transmission and printing without compromising image quality.
Distribute documents instantly with Scan-to-Email or automate document sharing and archiving with Scan-to-Folder.
Employ Scan-to-URL for network flexibility. Users can store the document on the Hard Disk Drive to reduce network traffic and view and download files via Web browser.
Preview electronic documents as full-color thumbnails for accurate review that can enhance efficiency while minimizing wasted supplies.
Load scanned documents to portable media with the optional Scan to USB/SD and print TIFF and JPEG files virtually everywhere.
SECURITY FEATURES (STANDARD)
Protect sensitive documents on the hard drive with the standard DataOverwriteSecurity System (DOSS). It automatically overwrites the hard drive to prevent retrieval of confidential information when enabled.
Add a powerful layer of security with standard HDD Encryption and encode stored documents for maximum protection from hackers.
Safeguard critical data during transmission with Encrypted PDF Transmission. Use it to scramble and encrypt transparent and vulnerable data, including user name and password.
Ensure accurate user authentication with a variety of methods, including user codes, LDAP, Windows Authentication and card based authentication solutions.
PRINTER FEATURES (STANDARD)
Simplify print jobs with the icon-driven, PCL6 user interface driver and optional genuine Adobe® PostScript3® drivers.
Enjoy seamless integration with Windows, Macintosh, Unix and AS/400 environments and a host of standard or optional interfaces to ensure that local network requirements are met.
Modify queues for print jobs at any time with the Job Function List feature and meet even the most ambitious deadlines.
Expedite jobs with PDF Direct Print. Users can print PDFs without opening Adobe Acrobat or taxing the network.
FACSIMILE FEATURES (OPTIONAL)
Up to 3 G3 Fax lines can be configured to support simultaneous fax transmission and reception in high volume environments. (optional)
Preview pages prior to transmission to decrease errors and detect blank pages.
Send and receive faxes electronically with Internet faxing, using either a PC or conventional fax numbers via IP to save on transmission costs and paper.
Route inbound faxes to an e-mail address or network folder to ensure timely, accurate delivery and distribution.
MOBILE USER FEATURES (OPTIONAL)
Print documents, e-mails and Web content from anywhere with optional HotSpot Printing. Users can forward documents to the MFP via PDAs or other Internet-enabled devices without installing drivers or software.
Accommodate visitors, such as employees visiting branch offices, with the Mailto- Print feature. This allows users to send emails with attachments directly to the MFP to print PDF/JPG files automatically without installing print drivers.
WORKFLOW CUSTOMIZATION FEATURES (OPTIONAL)
Customize MFP touch-screen menus directly from the PC quickly without IT support and create secure, searchable PDFs from text files, spreadsheets and scanned documents with Personal Paperless Document Manager (PPDM) software.
Expedite meta-data entry and integrate directly with many of the leading Document Management Systems at the MFP with optional support for GlobalScan NX, eCopy, NSi AutoStore and other applications with the optional USB Keyboard. (Native embedded scanning is not supported.)
Connect to optional Cloud applications such as DocumentMall. Documents can be securely scanned to a folder in DocumentMall or downloaded for printing.
Develop customized applications using Embedded Software Architecture, a Java-compatible Software Development Kit (SDK).
ENVIRONMENTAL FEATURES
Reduce paper consumption by printing double-sided documents—and reducing output by up to half—with standard automatic duplexing.
Start printing and copying quickly. The Savin MP 3352SP warms up in as few as 20 seconds and recovers from Sleep Mode as quickly as 10 seconds.
Save energy with fast first-copy times. This digital imaging system can produce a first copy in less than 5.4 seconds.