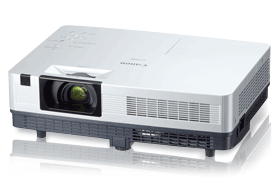 The Canon LV-7290 is a highly affordable portable LCD projector. With 2200 lumens and XGA resolution, it will provide bright, clean, sharp images from a wide range of sources in rooms large and small, whether displaying video, text or graphics. An impressive image depth can be seen with crisp blacks thanks to the 2000:1 contrast ratio delivered by the auto iris.
The LV-7290 has been designed to maximize ease of use and maintenance with longer lamp life, up to 6000 hours in Quiet Mode, and a newly designed air filter to withstand 5500 hours of use in ECO Mode. Whether your LV-7290 is used portably or installed, you will enjoy a simpler maintenance schedule.
Educators, small/startup businesses and traveling salespeople will enjoy the Canon LV-7290's flexibility and outstanding value, delivering capabilities that meet and exceed expectations.