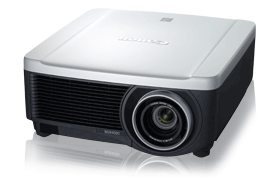 The REALiS WUX4000 D is a high-performance WUXGA (1920 x 1200) resolution installation projector employing Canon's AISYS-enhanced LCOS technology and interchangeable Genuine Canon lenses to deliver spectacularly clear and rich images. This new model also offers 4000 lumens of brightness, ease of installation and maintenance, and powered lens shift which can be operated in both vertical and horizontal directions.
The REALiS WUX4000 D features a DICOM Simulation Mode which allows for the viewing of monochrome digital X-Rays, CAT Scans and MRI's with accurate color and precise detail. This special mode simulates the results of devices compliant with the Digital Imaging and Communications in Medicine (DICOM) Part 14 standard, making it the ideal large venue projector for those in the medical education and training fields.
Other features of this widescreen projector include an HDMI terminal (version 1.3 deep color) for projection of high-quality digital images and uncompressed 1080p video, as well as a built-in network connection (RJ-45) for remote network operation. The projector's expanded color space and advanced optics mean that the 4000 lumens of the REALiS WUX4000 D bring razor-sharp, brilliant results, without the need to 'over specify' the lumens required to compensate for loss in brightness typically associated with wide or long throw lenses.
The REALiS WUX4000 D is the perfect choice for installations in large settings which require high-resolution images with exceptional detail, clarity and contrast.