| | |
| --- | --- |
| ImageSmart Document Mastering Workflow Suite | (Canon) |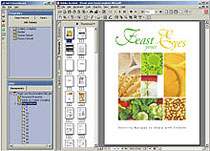 The ImageSmart Document Mastering Workflow Suite is a sophisticated package designed to enhance the capabilities of the Canon imageRUNNER 110 and imageRUNNER Pro 150+ Networked Production Systems.
Today, you have to be ready for anything that customers bring you, in whatever form they provide it - on disk, CD, via network, hard copy, anything. Built on industry-standard Adobe Acrobat Software with a PDF-based workflow and Web-based access, the ImageSmart Document Mastering Workflow Suite and the SmartBoard plug-in let you manipulate work more effectively with powerful functions such as editing, management, annotation, imposition, finishing and distribution tools. Compatible with a variety of applications and formats, such as Microsoft Office, QuarkXPress as well as PostScript Level 3, TIFF and JPEG, it lets you consistently deliver high-quality, mission-critical documents quickly and easily, allowing you to strengthen and build your business in today's competitive environment.