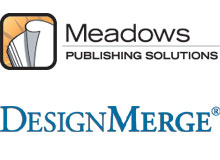 Meadows Publishing Solutions is a software development and consulting company specializing in commercial and custom XTensions for QuarkXPress and Plug-ins for Adobe® InDesign® CS software. Canon USA has partnered with Meadows Publishing Solutions to introduce their DesignMerge application to the Canon U.S.A. distribution channel.

A workflow that includes DesignMerge and a Canon CLC device allows users to quickly and easily create variable data output from any QuarkXPress* or Adobe InDesign document in Canon digital color. The solution is ideal for graphic design firms, advertising agencies, commercial printers, corporate marketing departments and other users in Graphic Arts marketplace who use current utilize QuarkXPress or Adobe InDesign to create print jobs. Meadows Publishing Solution has also created a PPML (Personalized Print Mark-up Language) Driver for DesignMerge that is optimized for streamlined production of variable data print jobs on Canon CLC devices.

*DesignMerge supports QuarkXPress versions 4.11, 5.01, 6.5 and 7 for Macintosh, and versions 4.1, 5.01 and 6.5 for Windows as well as Adobe InDesign CS2 and CS3 for Macintosh and Windows.