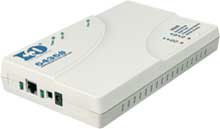 The I-O AS/400 Solution for the Canon imageRUNNER redefines production printing for IBM AS/400 environments. The I-O 5435dp is a LAN print server that easily attaches a Canon imageRUNNER 2200/2800/3300/330/400/5000
/550/6000/600/60
device to an IBM AS/400. In addition to offering network connectivity and full print functionality, the 5435dp is customized to support Canon's value-added finishing features to SCS and IDPS print jobs.
With the I-O AS/400 solution, Host and LAN printing can be done on one device. In addition, printers can be set up remotely and can receive print jobs from remote locations. A powerful RISC processor maximizes the print speed of the imageRUNNER.
The I-O PrintControl Utility Software provides installation in minutes and allows users to select finishing features for individual print jobs.