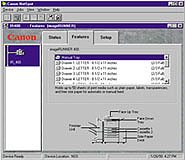 Basic network connectivity is just that - basic. To truly support customer requirements, networked devices must be easy to install, seamlessly integrate with existing network management applications, and permit management from anywhere in the enterprise. Canon's comprehensive solution to these customer requirements is embodied within Canon's NetSpot Suite.
Canon's NetSpot Suite is a group of software utilities designed to ease the administrative burdens associated with installing, monitoring, and managing Canon and 3rd party print devices on corporate enterprise networks.
Canon's NetSpot Suite is the byproduct of countless years of research and development and the direct input of systems administrators, IT professionals, and end users. Through these efforts, Canon has created a set of administrative and end user tools that drive increased capabilities for administrative personnel and end users alike.
Canon's NetSpot Suite is comprised of a number of utilities including NetSpot, WebNetSpot, NetSpot Console, NetSpot Job Monitor, Remote UI and software which links Canon systems to today's most popular enterprise network management applications.