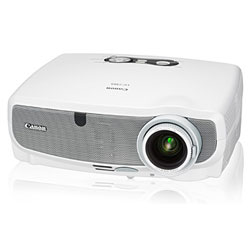 Around the world, Canon products are synonymous with optical excellence, advanced image processing, and superb performance. And Canon projectors are no exception.

The stylish Canon LV ultra-portable projectors feature Genuine Canon optics and a 1.6x wide-angle zoom lens for outstanding image quality and brightness. Compact and lightweight for easy portability, the sleek body design also enhances usability with value-added features to expand your projection capabilities, including enhanced Wall Color Correction, ultra-fast startup, and low fan noise.
One of the latest additions to the LV projector line-up is the LV-7265, which features a powerful 2500 ANSI lumens lamp and a short throw distance for projecting in a wide range of environments. The 1.6x wide angle zoom lens, impressive 600:1 Contrast Ratio, 29dB Quiet Mode, Quick Start, Auto Keystone Correction and intuitive on-screen menus make the LV-7265 a delight to both operate and own. In addition, HDMI digital input can be handled by an available DVI-I high-speed interface.