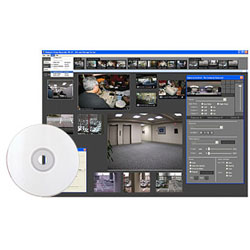 Canon's VK-16 version 2.2 network video recording software is fully compatible with all of Canon's network video cameras, creating opportunities for both new and established security applications. The software is comprised of two different applications- the VK Viewer and the VK Recorder.
The VK Viewer allows access and control of the cameras full range of motion, video modes and two-way audio capabilities. The Viewer also allows the user to access and monitor multiple cameras at the same time on a single screen, providing an ideal solution for monitoring centers and security stations.
The VK Recorder allows the user to record and access stored video taken from up to 64 security cameras on your network. Unlike tape-based recordings, this solution allows video to be stored, managed, and accessed by computer, simplifying archiving and playback. When used in a combination with other Canon network video cameras, a security administrator has a powerful, comprehensive system for both monitoring and recording.