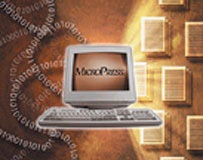 The EFI MicroPress for Canon maximizes productivity for print environments ranging from corporate workgroups to high-volume Print-on-Demand operations. The Canon MicroPress offers advanced make-ready tools, maximum throughput and unmatched quality in a scalable solution for Canon's imageRUNNER and CLC production print systems.
Casual and production-oriented POD environments require advanced job-management and printing capabilities to optimize their workflow. The Canon MicroPress provides these advanced capabilities to fill the void created by the limited feature set available on most embedded and server-based controllers. With the job-management capabilities of the Canon MicroPress, users can calculate toner coverage on a page-by-page or job basis, export job information to third-party billing tools, preview jobs prior to printing, archive jobs for future use, and schedule jobs for future processing.
The EFI MicroPress for Canon is built upon the latest proven technologies to provide productivity, scalability and flexibility with a broad range of connectivity options. These functions allow users to maximize their initial investment while providing a growth path for future demands.