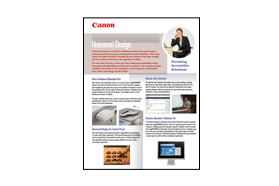 With the use of the Accessibility Kit-A1, imageRUNNER customers are able to connect to a network environment without purchasing a Printer Kit, enabling the use of the Remote UI Copier Feature of their device. The Remote UI Copier Feature lets users set and use copy settings from a PC. The Accessibility Kit-A1 has been specifically designed to meet the needs of customers who do not require printing features, but would still like to use Remote UI.
For users in wheelchairs, a PC located near the copy machine would allow a disabled person to utilize the features of the operation panel. Wheelchair users of small stature will have little difficulty in seeing the basic copy features of the control panel, thus making the Remote UI Copier a more convenient option. Glare problems resulting from the viewing angle are also eliminated.
Visually-impaired users have the ability to take advantage of almost all the basic copy features found on the control panel with the use of third party screen reading and/or magnification software.