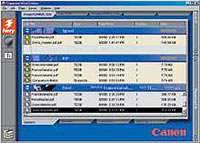 The Command WorkStation™ Software for Network Printer Board-F1 and imagePASS-C1 is an intuitive graphical user interface for managing jobs, print queues and workflow from a centralized location, providing Central Reprographic Departments, Print for Pay establishments and Print on Demand environments greater control and increased productivity. The Command WorkStation can support up to 5 EFI controllers in the same view - which allows you to move jobs from one machine to another.
The Command WorkStation's Thumbnail and DocBuilder tools allow you to preview and edit raster data. DocBuilder enables you to merge raster data from various sources into a single job, even if the source files were created in different applications. And Fiery FreeForm™ meets users' needs for variable data printing with a powerful yet easy-to-use custom interface.
Additional features include Job Management Tools, which enable easy job control and administration through a variety of features, such as downloading, load balancing, archiving, job log and queue management.