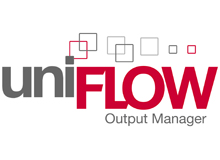 uniFLOW OM Software is a comprehensive solution form Canon delivering rich set of functionality in the areas of secure printing, document accounting, and rules based routing. With its modular design and emphasis on security, uniFLOW OM is particularly attractive to IT managers who value its ease of integration and strong level of control within networked environments.
uniFLOW Output Manager is one total solution that targets your complete document workflow ranging from document accounting and secure printing to job ticketing and professional print room management.
In order to address the diverse needs of today's customers for output management, the uniFLOW Output Manager suite was created in a modular fashion. uniFLOW Output Manager is an integrated solution, featuring not only printer management functionalities like printer accounting, copy accounting, and secure printing, but also production printing features like print room management, job ticketing and production management.
As uniFLOW Output Manager is a modular system, it can be configured specifically to address the needs of your business, ensuring you can make the most productive use of your printing devices.
Large corporate enterprises, local schools, and print shops: wherever you need to improve the management and cost control of document output, uniFLOW Output Manager can help.