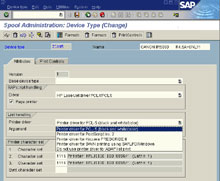 SAP is the leading supplier of Enterprise Resource Planning (ERP) software to the world's largest corporations. The nature of SAP implementations is such that a significant amount of information is viewed and printed in a structured reporting format. In order to utilize the extended finishing capabilities inherent in the imageRUNNER/imagePRESS devices, a Device Type for the specified printer must be used.

With the Device Types, organizations running SAP will not only enjoy the high quality performance of Canon's imageRUNNER and imagePRESS devices, but also the extended finishing features such as:
Designated Output Tray
Designated Page Orientation
Designated Paper Sources
Set Number of Copies
Duplex
Paper Size
Staple
Hole Punch
Saddle Stitch
Bar Code (PCL Only): Optional Bar Code printing kit required on supported imageRUNNER/imagePRESS devices
The SAP Standard Device Types are available for download from SAP Service Marketplace website at http://www.service.sap.com (Note #8929) . Standard Device Types are also available for download on this website under third party integrated solutions for Office Products or under Enterprise Printing. Simply select Drivers and Downloads link from the left navigational bar on this page and click on the first zip file link.
Disclaimer: Canon presents Solution Ally products and solutions as some may be helpful to you or may be compatible with your Canon products. Canon does not warrant or guarantee these third-party solutions in any way. Canon has no responsibility for your use of these third-party products and solutions, or their compatibility with Canon products in any way.