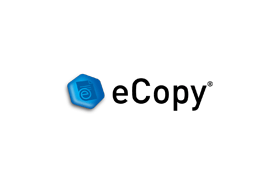 The eCopy™

The eCopy ShareScan line of document imaging solutions sets competitive benchmarks in security, application connectivity, innovative workflow processing and user-friendly design. This easy-to-use software solution enables office workers to use Canon devices to turn paper documents easily and securely into digital information that is integrated into their communication, collaboration, workflow, and business applications.

The eCopy ShareScan family of products includes:

eCopy ShareScan Suite:
As the flagship offering among the eCopy product lineup, eCopy ShareScan Suite is Canon's go-to "scan-to-process" solution. With these powerful capabilities, you can scan, extract, classify, index and convert paper information into digital information that flows effortlessly into, and through, the electronic channels of your business, allowing you to start and finish your everyday tasks directly from your device.

eCopy ShareScan Office:
Ideal for the general office for everyday document collaboration and archival, eCopy ShareScan Office allows you to move hard-copy documents into electronic office workflows with ease. You can simply integrate that paper-based information with your backend repository alleviating the burden of manually re-keying information or filing paper documents.

eCopy ShareScan Elements:
This package is designed for large customers who wish to deploy ShareScan throughout the enterprise. It delivers a core scanning platform for an entire workplace, along with the flexibility to add functionality when needed.

Canon offers eCopy ShareScan to businesses that can benefit from document imaging and processing into multiple business software applications directly from their Canon devices. Learn more about eCopy's document scanning solutions.