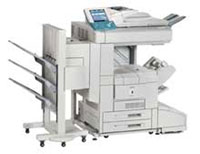 The iR3250 is a complete digital communications hub designed to support busy corporate workgroups by leveraging the power of corporate networks and the Internet to allow users to manage and share information in any form, with capabilities never before integrated into a single device.

The iR3250 ships standard as a copier, network printer and network-scanning device. Built around a 32-ppm monochrome print engine, the iR3250 comes equipped with an 1,100-sheet paper capacity and a color scanner capable of holding up to 50 originals and supporting scan speeds ranging from 24 to 40 ppm. Plus, the iR3250's modular design allows for the addition of optional duplexing and paper handling accessories to meet the unique needs and applications of your office while minimizing overall footprint.

Built on Canon's imagePlatform architecture, the iR3250 brings a host of productivity-enhancing benefits to end-users. These benefits include a large, color touch-screen LCD for simplified operation, Universal Send technology for conversion of hard-copy originals to digital form for delivery via multiple communication mediums, Remote UI functionality for enabling a user to access and control an iR3250 device from anywhere on a network via a web browser, and more! The iR3250 sets a new standard for document workflow and communications in the office.