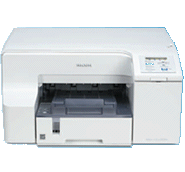 Savin's unique GelSprinter™ technology combines the affordability and convenience of inkjet color with the speed and durability of a laser printer. Plus, the entire system is designed with an eye on the environment, from our green manufacturing processes to its minimal carbon footprint for a business printing solution that makes sense economically and ecologically.
GENERAL FEATURES
Fast-drying viscous gel inks are the key, permanently embedding your images into the very fibers of the paper for sharp text and indelible prints that won't blur or bleed–even upon contact with water and highlighting markers.


Support workgroups with standard Ethernet connectivity and powerful controllers. Enable Windows, Macintosh, and Citrix users to access laser quality printing at an inkjet price.


Maximize productivity with a fast 40 second warm-up time, a first print speed of 5 seconds or less, and print up to 999 sets per job.


Take advantage of maximum uptime and low total cost of ownership with High Yield Print Cartridges that last for thousands of pages and are replaced individually to keep per-page costs and maintenance to a minimum.


Reliably print onto a wide range of media from plain paper to glossy stocks using belt feeding technology for a versatile solution. The optional 100-Sheet Multi-Bypass Tray prints onto heavy stocks up to 140 lb. Index and feeds banner pages up to 8.5" x 51" long.


Expand the 250-Sheet standard paper supply with one or two 500-Sheet Paper Feed Units to meet the needs of busy workgroups and print longer jobs with minimal interruption.


Save paper and reduce user involvement with standard automatic duplexing. GelSprinter technology allows users to print two-sided documents at high speed on plain paper with confidence.


Choose the level of image quality to match your application. Print internal drafts at 300 x 150 dpi, and maximize image quality with up to 3600 x 1200 dpi equivalent resolution for the in-house production of customer-facing materials.


Enhance your image for less than laser. Get professional image quality, businessclass media capacity, plus automatic two-sided printing onto plain paper in a cost effective solution.


Drive down printing costs without sacrificing quality. Savin's Economy Color Mode produces crisp text combined with eye-catching graphics to stretch supplies while maintaining the effectiveness of color.


Go green. The GX e5550N is part of Savin's growing family of GelSprinter products that is manufactured free of hazardous materials, participates in supply recycling programs, has no preventative maintenance parts, and produces zero ozone emissions for a solution with minimal environmental impact.


Refuse to fuse. Unlike typical laser printers, GelSprinter models do not require heat to operate. The ENERGY STAR-qualified GX e5550N uses just 38 watts when printing and as little as 3.499 watts in Energy Saver Mode so you can print with near-instant readiness and low total cost of ownership.