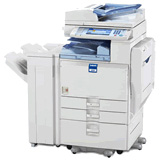 Efficient document management demands a system that optimizes productivity, ensures security and provides a customized workflow experience. The Savin 9240 revolutionizes document management tasks for a completely personal, yet professional file output experience; the Savin 9240 ties together the power to perform while keeping down costs and never compromises on performance.
GENERAL FEATURES
Download widgets to any client (desktop, PC, laptop or Smartphone) - standard; use them on any MFP enabled with App2Me
Create searchable PDFs and custom scanning workflows
Transform paper originals into fully editable Microsoft Office files, PDF or fillable forms
100-sheet Automatic Reversing Document Feeder efficiently handles multi-page and double-sided originals up to 11" x 17"
Stackless Duplex Unit creates two-sided copy, print and fax output—cutting paper, filing and postage costs in half
Standard 1,200-sheet paper capacity, and maximum 4,400-sheet paper capacity with optional paper banks
Professional finishing options include 2- or 3-hole punching, multiple finisher options, including optional saddle-stitch booklet making
Compatible with Embedded Software Architecture, a Java (J2ME) compatible software development platform
Full-color VGA touch-screen with Simplified Display and Animated User Guidance
Energy saving features such as Quick Start-up technology and Sleep Mode can save power
PRINTER FEATURES
Standard PCL5e/6 and Adobe PostScript3 (Optional)
Accept data from Windows®, AS/400, Linux, Macintosh® and Novell® for seamless integration with a variety of network operating systems.
Optional interfaces include IEEE802.11a/b/g Wireless LAN, IEEE1284/ECP Gigabit Ethernet and Bluetooth
PDF Direct Print lets you send PDF files directly to a printer without opening the application, reducing network traffic
View settings and manage documents from any connected PC via standard web browser
Print files can be temporarily held using Hold Print and released and collected when you're ready
High performance 600 x 600 dpi network printing at 40 ppm
Manage jobs and reorder priorities easily with the Job List Function
COPIER FEATURES
Control usage by setting print or copy quotas for up to 500 users.
Crisp 600 dpi resolution copies in 256 levels of grayscale
Comes standard with 768 MB RAM
40 GB Hard Disk Drive
Scan Once, Print Many with fast, clear output at 40 ppm
Warm up time 22 seconds with first copy speed of 4.1 seconds
SCANNER FEATURES
Versatile Black & White and Full-Color network scanning
Scan-to-Email—Easily search and send electronic documents for timely and accurate delivery.
Scan-to-Folder—Ideal way to archive and share large files with multiple clients.
Network scanning BW = 61 ipm at 200 dpi; Full-Color = 31 ipm at 200 dpi
Supports wide array of industry standard files such as PDF, TIFF and JPEG; Single Page and Multi-Page TIFF, PDF, High Compression PDF, Single-Page JPEG
Embedded Scan-to-Email, Scan-to-Folder, Scan-to-URL, Scan-to-FTP, Scan-to-SMB with no additional hardware or software required
TWAIN scanning provides alternative scanning options for networked users
Scans max paper size 11" x 17" at 600 dpi with 256 grayscales
Thumbnail Preview allows users to verify that they have the right file and the correct orientation.
SECURITY FEATURES
Prevent unauthorized access to system functions with Windows/LDAP/Kerberos Authentication, which requires a valid user name and password.
Removable Hard Drive (RHD) Option allows hard drive to be unlocked, removed and stored in a secure location; enabling users to easily manage classified and/or sensitive information
Protect address book data with Encrypted Address Book, which protects data even if the built-in hard drive is removed, disposed of, or stolen.
Secure Internet Protocol (IPSec) communication by authenticating and/or encrypting each IP packet in a data stream with IPSec Communication and transmit PDFs securely with Encrypted PDF Transmission.
Encrypt Hard Disk Drive and non-volatile RAM data immediately upon storage with the HDD Data Encryption.
The Locked Print feature gives you the added security of releasing files when you decide to release them and then deletes the files from the document server after printing.
FACSIMILE FEATURES (OPTIONAL)
Send hard copies at 2 seconds per page with standard JBIG on up to three analog lines via the Super G3 33.6 Kbps Modem with Auto Fallback.
Save time and paper with LAN Fax and send faxes right from your desktop.
Capitalize on the cost-saving benefits of IP faxing (T.38) for fast, high quality communication: send and receive faxes directly over your LAN or WAN, bypassing your PSTN (Public Switched Telephone Network).
Save time with up to three Super G3 fax lines and eliminate long-distance phone charges with Internet fax capabilities.
Deliver inbound faxes quickly by automatically forwarding them to e-mail addresses or network folders. Recipients receive an automatic e-mail notification of fax deliveries.
OPTIONAL FEATURES
1,000 Sheet Finisher holds up to 1,000 sheets of 8.5" x 11" or smaller; 500 sheets of 8.5" x 14" or larger 20 lb. Bond paper and automatically staples in 3 different positions
2,000 Sheet Booklet/Saddle Stitch Finisher enables you to produce professional-quality booklets or use with a variety of staple and hole positions (2- or 3-holes)
Add the 2 x 550 sheet paper bank and have up to five different sizes and orientations of paper that can be loaded at all times for maximum versatility
2,000-Sheet (letter-sized) Large capacity tray is also available, allowing for a combined maximum of up to 4,400 sheets of paper loaded for high-production environments