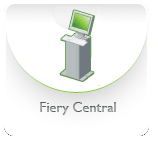 Fiery® Central, a powerful modular, PDF-based production workflow solution, helps medium to high-volume print-on-demand environments increase their job volume, decrease turnaround times and maximize their equipment investment. It comes in three modular components: Fiery Central Focus, Fiery Central Flow and Fiery Central Balance. Optional modules such as Balance perform job splitting and load balancing to increase production, while other optional modules such as Flow create customizable workflow automation for advanced prepress capabilities.
FEATURE HIGHLIGHTS
Delivers high return on investment. Focus, the base module, includes Fiery applications such as EFI Command WorkStation® (CWS), EFI Hot Folders and EFI Driver, making it familiar and integration effortless into companies' existing workflows. Businesses also can add on optional modules as they grow such as Flow for prepress automation, EFI Impose for job imposition and EFI Compose for complex document production.
Manages jobs faster and more efficiently. CWS eliminates bottlenecks and device contention by centrally managing workloads. EFI Driver makes setting up, submitting and monitoring print jobs simple, while Hot Folders reduces costly mistakes by automating the job set-up process. EFI Scan improves the job process by scanning black and white and color documents to the workflow.
Maximize productivity for crunch times. Balance increases productivity by combining multiple devices into a "printer group" for optimized asset utilization. Compose makes job composition easier by allowing users to visually assign and communicate page-level attributes and tabs to any printer. Impose also reduces production time and errors by allowing WYSIWYG display for nearly any imposition scheme and by creating templates for simple, scalable workflows.
Automates prepress functions easily and quickly. Flow offers advanced digital prepress capabilities in a simple, cost-effective solution. It incorporates file conversion, preflight, spot color management, approval, routing and proofing processes into customizable workflows that can be edited and managed by any operator to optimize resources and increase production. It also can reduces manual tasks and provide greater consistency and reliability.
FIERY CENTRAL BENEFITS
Configuration flexibility to offer customers more options.
Connects to any generic PostScript printer for increased compatibility.
Utilizes common, standard Acrobat plug-ins
Aggregates capacity of existing Fiery driven devices within a unified user interface.
Customer re-installable on any PC platform.
CUSTOMER PROFILES
Monthly volume justifies high speed, black and white and color printers.
Large number of complex documents with tabs and/or inserts.
Significant volume of hybrid documents (mixed color and black and white).
Using Fiery Central driven production color devices.
Has many different software systems from different vendors and all applications are independent.
Little relationship/link between applications, creating time consuming process.
Constant upgrading.
Service and compatibility issues.
Environments with two+ color printers, and possibly some black and white printers.
A large number of designers are using the system to produce corporate work.
Files require editing after being received from the customer.
Files need color management to meet "match" criteria.
Frequently produce short runs for their customers (presentations, brochures, etc.).
A large selection of media is used depending on the type of work and the customer.
Proprietary workflow requires highly skilled employees and makes production dependant on a few people.
Expensive to keep systems up to date.
Not compatible with other industry leading applications.
Sustained volume does not justify investing in a big iron color or black and white printer.
Consider multiple printers a less expensive alternative to a single, faster, more expensive printer.
The mix of jobs (e.g., smaller runs, frequent copy jobs) makes it more efficient to work with multiple printers.
Volume consists of a mix of print and copies, usually short job runs.
Orders with short turn around times.
Occasional larger runs under tight deadlines.
APPLICATIONS
Common applications being produced in production environments include: Annual Reports. Business Cards. Brochures. Booklets. Pamphlets. Proposals. Stationery. Direct Mail. Business Forms. Tags/Labels. Reports. Newsletters. One to one marketing applications
VERTICAL OPPORTUNITIES
Manufacturing, automotive, electronics, textile, aerospace, medical, health Care, pharmaceutical, biotech, education, college, university, school districts, fortune 1000 CRD's, financial services, insurance
VALUE PROPOSITION FOR ALL SALES GROUPS
A workflow solution for any competitive digital production environment and offer a solution to that integrates to their production black and white and Production Color devices.
With the ability to capture printed pages from competitive devices and bring them over to production printers. The revenue associated with more print volume is and increase in profits. The long-term revenue opportunity for selling a solution is much greater than the single printer sale transaction itself. If sales groups can recognize how many more pages can be captured and position this properly, Fiery Central will be part of every deal. Ability for some sales groups to better competes against companies with high-speed production devices. Fiery Central allows them to package multiple color and/or black and white devices.
Differentiate against competitors who only sell boxes. By selling the full value of the workflow along with the copier/printer, the sales groups are able to show greater savings to their customers than their competitors. Sales groups won't focus on total cost for the solution but total savings and ROI.
COMPLEMENTARY PRODUCTS
The solution can be used with Digital Storefront
The solution can be used with JDF Connector
The solution can be used with Impose/Compose/Color Profile Suite/Enfocus-Pitstop
The solution can be used with MIS systems EFI Printsmith &Hagen