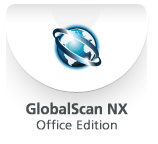 GlobalScan NX converts scanned paper documents into electronic files and routes them to network folders, email addresses, fax servers and other destinations. This simple to use solution lets users perform a scanning operation by selecting one menu button and pressing start.
ABOUT GLOBALSCAN™ NX OFFICE EDITION
Simple to use document capture and distribution solution using networked Multifunction Products (MFPs)
User-friendly interface with large customizable buttons
Intuitive admin tools to pre-set and configure workflows
Ideal for small/medium size businesses, departments or branch offices, yet scalable to grow with you
MAJOR APPLICATIONS
Preserve business paper documents electronically in an organized file system
Automate paper-based processes
Secure scanning to protect confidential data and meet security policies and regulations
Cost reduction in overnight delivery, faxing, storage and document handling costs
BENEFITS
Reduces the number of steps to complete a scanning job
Simple operation increases user acceptance and reduces errors
Conversion of paper documents into digital files saves storage space and improves information flow
Routing documents electronically reduces or eliminates the cost of courier services and speeds delivery
Increases the Return on Investment (ROI) from networked MFPs
USING GLOBALSCAN™ NX OFFICE EDITION
Simple and easy - users can select one menu button and press start
Customizable display with large graphical buttons
Scanning processes are pre-set by administrators and mapped to buttons (including distribution to multiple destinations at once)
Scanned documents can be routed to email addresses in the company address book, fax servers, network folders, home folders, FTP and document archives
Saves scans to a variety of image file formats including: TIFF, JPEG, PNG, DCX, BMP, GIF, PDF (incl. searchable and password protected)
Automatically routes incoming faxes to select network folders (when used with fax-enabled MFPs)
High compression formats supported; for PDFs files only
Optical Character Recognition (OCR) creates editable file formats including: searchable PDF, RTF (Microsoft® Word and Word Perfect), XLS (Microsoft® Excel)
Route scanned documents to a "watch folder" , along with the associated metadata, for integration with document management software or other back-end applications
Scan image preview on the MFP Operation Panel allows users to zoom in/out and verify the image quality before committing the final scan into the workflow process.
IMPLEMENTING THIS SOLUTION
One GlobalScan NX Business Server supports up to 32 MFPs
Live LDAP feature reflects changes made to your E-mail server instantly at the MFP
Job Flow Configuration Tool makes it easy for administrators to setup specific scanning processes by dragging and dropping workflow objects (for example "convert to PDF") and then customizing the workflow as needed
Browser-based admin tools provide administrators with the ability to centrally manage: groups, MFP devices, server, logs, meta data and more
Network log-in authentication
Works with optional Card Authentication Package
128 bit encrypted transmission of scanned documents using HTTPS
Optional RightFax Plug-in provides scanned document distribution without the need for a fax-enabled MFP
A library of pre-configured industry templates let you get up to speed quickly and apply best practices that are tuned to specific industry workflows
COMPLEMENTARY PRODUCTS
RightFAX Plug-in
Card Authentication Package