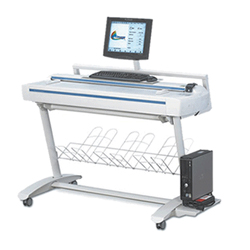 Changes and additions are a fact of life with wide format documents. Capture them fast in full color, while handling highspeed monochrome scanning and printing needs at the same time. The new Ricoh Wide Format Color Scanner captures "as-builts" and on-site changes—or integrates satellite imagery into your documents. Whether it's architectural drawings, sepias, blueprints, detailed maps, folded or wrinkled documents, or oversized drawings, photos or posters, you're assured unrivaled speed and image quality.
GENERAL FEATURES
Eliminate waiting time with the high-speed, 12 inches-per-second (ips) monochrome scan speed and .6 inch-per-second (ips) color scan speed (48-bit).
Scan thick documents you never thought possible: up to .6" thick. Capture information from posters, presentation boards and other thick working documents.
Increase productivity by eliminating skewed documents, cut scanning times, and avoid both image distortion and damage to fragile originals.
The All-Wheel-Drive Paper Transport System keeps a uniform hold on your documents across the width of the paper, for a straight paper path and trouble-free scanning.
Pre-scan, crop images and edit copy before sending to file or output, shortcutting the design process and saving time.
Capture extraordinarily accurate 600 dpi images with 48-bit color and 16-bit monochrome data.
Eliminate the background artifacts and "noise," common problems with GIS imaging systems, with the advantages of CCD technology: superior background suppression, color-matched fluorescent lamps, high-quality camera lenses and a high-definition CCD array.